Smart ticketing plays a major part in helping the Government deliver its strategy in promoting and improving the use of public transport.
ITSO smart ticketing schemes have been in operation across Great Britain for over 15 years, since the introduction of the first ITSO smartcard in 2002. ITSO is probably part of your everyday life – you just don't know it. Next time you use a smartcard to pay for your journey on public transport, look for the blue and white logo.
ITSO statistics
Across concessionary and commercial schemes, across modes of transport, ITSO smartcards are making millions of journeys every day. See below our latest statistics from across the ITSO community*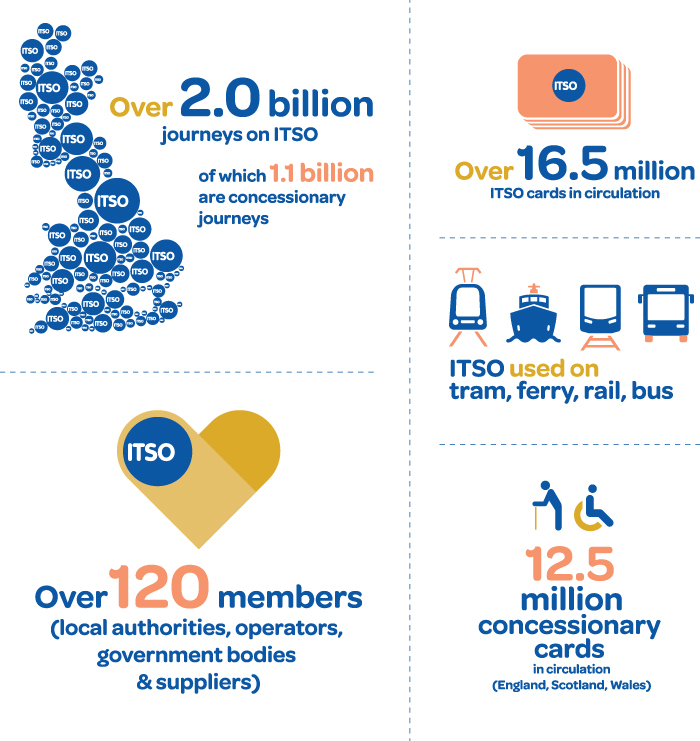 *These statistics are a calculation of statistics provided to us from our ITSO members. At ITSO, we are regularly ask our members to provide key information on current and planned ITSO smart ticketing schemes. We want to ensure the information we hold is accurate and up-to-date so that we can properly support and promote the work you are doing. Although this is a true statistic of totals of statistics provided, we are aware that this doesn't include all ITSO schemes and believe the figure in fact is more than likely higher than these reported.
Concessionary figures have been taken from the Department for Transport. These are published annually and can be found here