ITSO Transit Hub looks ahead to Transport Ticketing Global
There are just a few days to go until go until Transport Ticketing Global kicks off in London on the 29th and 30th January. This event is a real highlight in our calendar and this year gives us the chance to share our news about ITSO on Mobile, operated by ITSO Transit Hub, which aims to lead the way in making travel both seamless and smarter for passengers.
ITSO on Mobile brings the UK's trusted national smartcard to mobile phones, and the technology is already being recognised – we've been shortlisted as Ticketing Technology of the Year at The Transport Ticketing Awards, a category that recognises ticketing solution companies that have developed new products to revolutionise ticketing in the transport industry.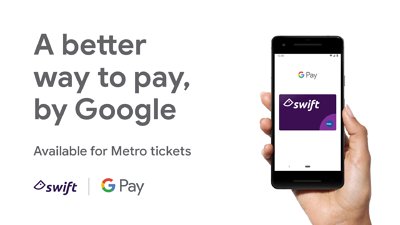 Transport for West Midlands launches ITSO on Mobile
One of the first operators that ITSO Transit Hub partnered with was Transport for West Midlands (TfWM) who rolled out ITSO on Mobile for up to 500 users on the West Midlands Metro in November 2018. Swift on Mobile scheme has been backed with funding from Midlands Connect which is looking to further develop the technology across the wider Midlands region.
Through the Swift on Mobile app and enabled by the digital wallet provider Google Pay, these passengers have been able to plan their journeys and buy their tickets quickly and securely from the comfort and convenience of their smartphone.
Feedback from the TfWM trial has been positive with many customers saying they'd like to be able to use ITSO on Mobile technology on buses and trains too. The cap on users has now been lifted with an official launch to all passengers this week.
We caught up with James Webster, Swift Development Lead at Transport for West Midlands.
What was the driving factor in TfWM choosing ITSO on Mobile?
Our customers have been asking for mobile ticketing for a while now and we've been looking for the right solution that still provides the journey data of an ITSO smart transaction. This feeds our existing reporting systems and we're able to accurately monitor mobile ticketing journeys and trends.
How have you found the integration process into your existing retail channels?
At TfWM, we decided to create a new mobile app specifically for this purpose without integrating the solution into our existing customer web portal. However, it is in our future road map to integrate this solution when more modes and ticket types come on board.
How has the launch gone so far and what are your customers saying?
Feedback is positive, a lot of customers are asking when we can get buses and trains included in the ticket types available through Swift on Mobile, which of course is our next phase that we're now embarking on.
Where do you see ITSO on Mobile in your smart ticketing future plans?
Mobile ticketing on public transport is definitely the future! It puts transport ticketing in our customers' hands, without needing to queue, find change or carry separate tickets. And because it's ITSO, transactions are secure.
What would you consider unique to ITSO on Mobile over other solutions?
A number of operators in our region have their own ticketing solution which uses a 'flash-pass'. ITSO on Mobile provides a secure solution that verifies the customer's ticket, which assures the transport operator that the ticket cannot be fraudulently replicated. As this makes it a smart transaction, we also receive the journey data which provides essential information for the future of public transport in our area.
ITSO Transit Hub will be demonstrating ITSO on Mobile at the show. Visitors can visit stand A33 if you want to come and talk to us and find out more.
Download the Swift on Mobile app from Google Play Store or from www.myswiftcard.com/mobile. Only available on smartphone devices with NFC (contactless communication) capability running Android Lollipop 5.0 operating system or later.