Transmach's ITSO machine launched in community bus scheme
OurBus Bartons, one of the Oxfordshire community transport bus operators can now accept ITSO concession cards to board the bus thanks to the use of Transmach's TM920 ITSO enabled handheld ticket machine. The TM920 will scan, validate and register the boarding and then produce a report for their reimbursement electronically from the back-office system.The TM920 handheld from TransMach offers a complete solution for your ticketing needs with excellent customer friendly support.
The TM920 is a truly all in one device so the operator can add new features such as contactless payment support (Contactless cards, Apple Pay and Google Pay), a range of ticket types including returns and weekly tickets with QR codes for validation, satellite tracking, SIRI feed, mobile Apps and link to online booking engine etc.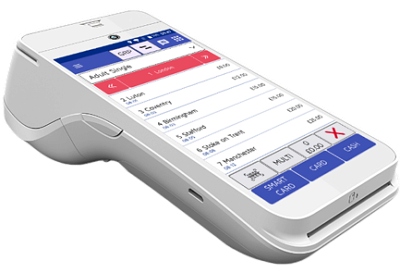 The solution comes with the web based back-office and mobile app for daily reporting, tracking and fares configuration. The TM920 system offers affordable value (initial costs and yearly on-going costs), advanced features/tools and quality support with a personal touch.
TransMach deployed the new TM920 to the directors of OurBusBartons in February 2020. Ken Caldwell, director at OurBus Bartons, said "We choose TransMach Systems' solution because of its simplicity of use, automatic production of the monthly concession report, ease of use by drivers and easy to install and portability.
The TM920 solution reduced the effort by our drivers in recording tickets and passes. Improving accuracy of our ticket issue and passes recording. This reduced the effort in preparing the monthly Concession return for the local Authority and simpler management of route changes.
The ease of making changes and putting them live was made possible by the level of support received when running our tests. The level of support received at all stages and the response to queries has been excellent."
Minesh Vandra, director at TransMach, said "We are pleased to have OurBus Bartons on board. The TM920 solution gives them all the functionality they were looking for, with a lot more flexibility than was previously available.
The TM920 features everything that the transport industry needs, creating better overall ticketing solutions. The key strengths of the TM920 solution are affordability (initial and annual costs), advanced features (ITSO, Contactless, QR codes validation, GPS tracking, SIRI feed and third party integrations), web based back-office system (accessible anywhere and easy to update fares on machines) and quality support with a personal touch."
About OurBus Bartons
OurBus Bartons was established in 2016, by a group of dedicated volunteers responding to cuts that left their local community without public transport. OurBus Bartons provides a scheduled weekday bus service along nine routes linking our local community for our 10,000 passengers.
TransMach Systems Ltd
TransMach Systems is a leading ticketing system supplier established in 2011. TransMach offers affordable ticketing solutions which include TM500 On-bus and TM920 Handheld ticket machines along with our Web based Back-office system, Online ticket booking engine, ITSO smartcards, Commercial smartcards, Card payments on board, Mobile ticketing and Mobile Apps.
Visit www.transmach.co.uk for more information.