Swift - new look, new solutions, new customers
21 June 2017
Swift, Transport for West Midland's (TfWM) ITSO smartcard, has had a busy start to 2017, delivering new products and solutions to customers as well as refreshing the brand.
To keep up with the growing demand and technical developments, the look and feel of Swift has been refreshed to ensure the brand remains contemporary and appealing to customers, alongside a new website and online experience.
Brand refresh
The brand has changed from quite a complex logo, with a predominantly blue/cyan colour theme, to a more simplified logo with deep purple as the dominant colour. Feedback from customers has been really positive and the changes well received.
Head of Swift card - Matt Lewis said: "This is an exciting time in the continued rollout of Swift smart ticketing throughout the West Midlands."
"With further great new tickets and functions being introduced, we have taken the opportunity to update and refresh the brand design to ensure that, in keeping with the new solutions that we continue to rollout, it remains at the cutting edge."
In addition to the rebrand, TfWM has recently added more innovative products and features to their smart ticketing solution, continuing to enhance the customer offering.
Swift Kiosk ITSO ticket vending machine
As well as offering the retail of cards and top-ups via Travel Shops, a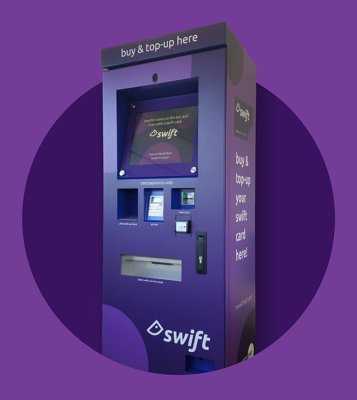 network of Payzone agents, and the Swift website, the Swift Kiosk, in partnership with Cammax, was launched at Wolverhampton Bus Station in April this year. It is part of a six-month pilot project to test customer demand for a self-service retail point.
Cammax is an ITSO Registered Supplier and leading UK provider of bespoke self-service kiosks and smart touchscreen systems. The Kiosk offers a simple, streamlined, 24/7 customer solution for Swift by retailing:
Swift Pay As You Go
Swift season tickets for bus & tram
e-Daysavers
n-bus multi-day
The products can either be topped-up to an existing card or issued on a brand new card. The Kiosk can also act as a Swift Collector, allowing customers to load any product and credit purchased online to their cards. This functionality can also be carried out by our Swift App and a network of over 100 Click & Collect sites.
The Swift Kiosk is the first ITSO ticket vending machine in the country with a photo-capture feature - a photo can be taken and printed on a pre-encoded photocard in just over a minute.
The pilot is expected to run until the autumn. Customer feedback will help to set out what the best longer term solutions are when considering further roll out.
In March 2017, Swift also launched a further smart carnet product to its catalogue following the success of the already established e-Daysaver smart carnet. When talking to our customers it was discovered that carnet style ticketing was the most requested product type, helping to provide a practical travel solution for part-time and shift workers, leisure, and infrequent travellers.
The new n-bus multi-day allows customers to purchase sets of 5, 10 or 15 day tickets at a hugely discounted price, wh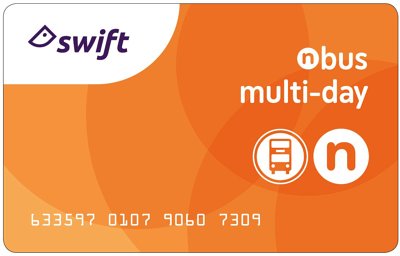 en compared to buying tickets on bus, offering customers the convenience and flexibility to use the product as and when needed. The product can be used on all buses, all day, all over the West Midlands.
Swift on rail growth
Swift's journey on rail also continues to grow. Following the transfer from paper tickets to Swift for 4,000 of our rail Direct Debit customers back in November, we completed the rollout to a further 9,000 customers in early 2017. These customers are now using Swift to travel around the rail network in the West Midlands. Customers have revelled in the benefits of Swift, eliminating worries of not receiving their ticket each month, and providing them with quick and easy access at rail gates. Moving to Swift has meant we have been able to reduce the cost of their monthly ticket, allowing customers to enjoy the cost savings. The next step is to roll out Swift to customers who travel into the region from outside the West Midlands, so all of our rail customers from surrounding areas can start to benefit as well; we will also look to expand the Swift rail ticket options beyond the Direct Debit option.
Other big projects lined up for this year include an end-to-end smart child ticketing solution, enhancements to our self-service online account, and an updated Swift app.
Swift is constantly evolving as we continue to work on enhancing smart ticketing to support better connectivity across the wider Midlands region. Planning is already underway to determine what we can deliver, up until 2025, which includes contactless payments, capping on both contactless and Swift cards, and mobile ticketing, to name a few of the innovative areas on our road map.
ITSO scheme statistics
Customer take-up continue to grow with just under 3.5 million usages each month and more than 170,000 unique cards used across the network in the last 12 months. In total one in every three public transport journeys in the West Midlands is now being made using an ITSO smartcard - either Swift or an English National Concessionary Travel card.