ITSO Whitepaper: the missing link in MaaS
An integrated, collaborative public transport system is crucial for the delivery of a fully functioning Mobility-as-as-Service (MaaS) scheme, and smart ticketing is the missing link, says a new whitepaper by ITSO Ltd, the national standard for public transport.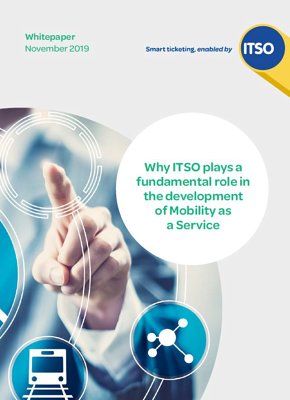 Launching today, the report assesses the many aspects that contribute to the successful delivery of MaaS in cities, and the actions that need to be taken to achieve a fully interoperable transport system in the UK.
The report highlights the need for further investment in the technology that will help make integrated services a reality. It positions smart ticketing, specifically ticket fulfilment through mobile applications, as the best way to simplify ticketing and as a result, provide the foundations from which MaaS schemes can develop and thrive.
Steve Wakeland, Executive Chairman, ITSO Ltd and ITSO Transit Hub, says: "As we grapple with ever-increasing urban congestion and a growing consciousness of our rising carbon footprint, the provision of smart transport services is a core function of strategic importance for cities and regions in the UK. MaaS has the potential to change dependence on private vehicles and encourage more efficient forms of transport, but currently, there are barriers hindering its progress in the UK.
"ITSO's role is to provide the connection between the transport operators or ticket retailers and the technology companies that provide mapping services and electronic wallets. Once these sectors can collaborate, effective MaaS schemes will begin to emerge in the UK."
The report can be downloaded here