TransMach TM920 - a ticketing solution for small to medium operators
Norfolk-based Coach Services has partnered with tech supplier TransMach to roll out a new contactless ticketing solution across its network.

The Thetford-based operator, which runs a coach hire service and scheduled routes across Norfolk and Suffolk, uses a fleet of low-floor Scania and Wrightbus vehicles. TransMach's hand-held solution has enabled 100% contactless availability across its network, according to Financial Director Rob Crawford.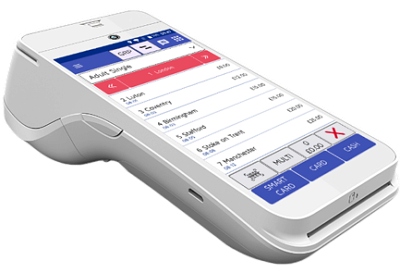 The ITSO certified TM920 weighs under 400g and features an in-built thermal printer to provide operators with portable cloud-based ticketing. It complements the supplier's existing on-board TM500 contactless system.
The solution is ITSO compliant and compatible with 'all forms of contactless payment' according to TransMach.

TransMach Director Minesh Vandra says as many as 90% of smaller regional operators are still using manual ticketing machines, which adds extra time and administration costs for drivers and operators, and may prove a barrier to Bus Open Data Service requirements.

This solution is designed to support an easier transition to cloud-based ticketing. It scans and validates operator ITSO smartcards and QR codes, logging boarding data remotely through TransMach's back-office. Automated concession reporting is included with third party electronic reimbursement, alongside vehicle tracking and real-time information for passengers.

"Due to COVID-19, contactless ticketing is now paramount for safety," Mr Vandra says. "But TransMach wanted to do more to support operators and drivers too, by removing the administrative burden.

"Our on-bus TM500 and portable TM920 systems deliver an all-in-one flexible solution that also provides real-time passenger information and GPS vehicle tracking. This will enable operators to comply with new laws coming into force in January 2021 regarding the requirement for data on fares and live vehicle location.

"Our mission is to make transport mobility seamless and more cost-efficient for our customers, so we're delighted to be supporting Coach Services."

Adds Mr Crawford: "Having worked with TransMach over many years, it has proven to be an innovative and reliable ticketing partner that has the interests of small to medium operators at heart.

"Coach Services now offers 100% contactless availability across its network, which enables us to provide our growing patronage with additional reassurance. The pandemic caused our business to accelerate its plans to roll out this technology and TransMach helped us to deliver the project in a much shorter timeframe."

TransMach has recently launched its own mobile app for Android and iOS which allows operators to access the back-office system on the go.
For more information visit www.transmach.co.uk