ITSO infrastructure to be leveraged to deploy Account Based Ticketing
ACT, a Fujitsu company, has launched Account-Based Ticketing (ABT), a straightforward way to deploy ABT by leveraging existing ITSO smart-ticketing infrastructure.
Smart-ticketing schemes have been a great success across the UK, providing regular travellers with access to an altogether more joined-up travel experience. Once a passenger obtains and registers their ITSO smart card, they just need to load a suitable travel pass according to their anticipated travel plans.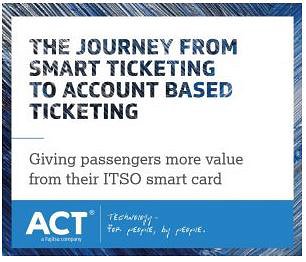 However, one drawback for passengers using ITSO cards to access travel services is the necessity to estimate their upcoming travel needs in advance, to select a cost-effective travel pass. For many passengers, this is difficult to predict, which makes 'buy-ahead' travel passes a less attractive option for them.
Mark Fagan, Head of ACT, said, "This is where ABT for ITSO increases the convenience and flexibility of ITSO smart cards – by providing a 'pay-as-you-go' model of ticketing. Passengers can use their ITSO card to travel first and pay later, with capping applied to offer the best value fare.
"Passengers still get all the benefits of joined-up travel, but with the flexibility of capped fares according to their journeys, giving them more confidence in using public transport."
Delivered on ACT's Actora smart-ticketing platform, ABT for ITSO also provides occasional travellers with a reason to start using an ITSO card. They don't generally travel enough to make buying a travel pass worthwhile, so are currently faced with the option of choosing an alternative means of travel or buying paper tickets.
Dave Spillett, ACT's Senior Solutions Architect added, "This is a really important step to encourage people to use public transport. To date, occasional travellers haven't had a reason to use an ITSO card but, with our solution, they will gain the convenience of smart ticketing, even if they don't travel regularly."
With no need to buy a ticket in advance to secure the best fare, passengers benefit from the convenience to board services quickly and easily, secure in the knowledge they will be charged the best fare for their travel. This could be capped as single or return fare, or as a day and week using 'tap' criteria such as the start and end points for multi-stage or multimodal journeys.
Deploying an ABT option across existing ITSO schemes
Transport operators and authorities in the UK have invested in ITSO smart ticketing over many years.
ACT's ABT for ITSO solution will enable them to:
Leverage their existing investment to start their journey to ABT now, using their proven ITSO infrastructure including Bus ETMs, rail gates and validators, and ITSO cards.
Build on their brand by giving passengers increased convenience and flexibility from a card that is already familiar to use.
Increase usage by providing convenient ticketing options for regular, ad-hoc and occasional travellers.
For information about ACT's Account Based Ticketing solution, please click here or contact us at info@weareACT.com or +44 1249 751200.