ITSO at Smarter Travel Live 2018
ITSO exhibited at Smarter Travel Live last week and Business Development Manager, Nigel Cullum, took part in a panel discussion about the future of smart ticketing in the transport industry along with ITSO members from West Yorkshire Ticketing Company, Transport for the North, Systra and future technology companies Passenger Technology Group and Urban Things.
Smarter Travel Live brings together the integrated transport and intelligent mobility communities, focusing on how new technologies can shape the future of our cities, whilst supporting sustainable transport systems.
Prior to taking part in a wider discussion about future ticketing technologies, Nigel presented to fellow panellists and the audience, highlighting the importance of an industry-wide transformation of ticketing.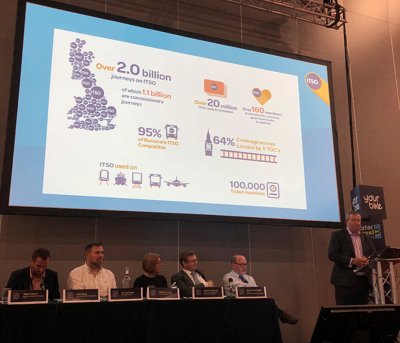 Nigel drove home the message that the transport industry needs to move together towards developing ticketing solutions that are integrated and address changing passenger expectations. As with all aspects of their lives, technology and digital experiences are driving the rise in consumer expectations - they want to be able to pay for travel quickly and seamlessly without having to purchase multiple paper tickets or spend time at a ticket office. Smart ticketing solutions should now do more than enable operators to offer passengers more options when it comes to paying for travel. Smart to the travelling public is all about removing the hassle, decision making process and universal acceptance or authority to travel across all modes of transport without thought or concern.
Mobile ticketing is a critical starting point in bridging the gap between where we are today, it utililises all the investments made in the existing ITSO infrastructure and by using an ITSO based mobile solution operators can easily integrate their existing ITSO smartcard schemes to mobile schemes. These can be with quick deployments without major infrastructure cost or change.
Nigel concluded by saying that there is still a lot of joined up thinking and work to be done to get us to a fully integrated transport system in our UK cities. Only once there is a commonly accepted and widely used digital payment method, adaptable to all forms of public transport including and connecting bus, rail, car, taxi and bike, will operators be able to deliver mobility in a fully connected state.
For now, we can maintain the simple secure and straightforward experience of tapping on board - with a card or with a mobile.