Integrated with Google Pay
Working with Google
ITSO Transit Hub Ltd are working with Google to bring the ITSO smartcard to mobile phones for the first time, ensuring an instant, secure and seamless ticketing experience for passengers.
Announced at Google's I/O'18 Developer Conference in San Francisco in May 2018, ITSO on Mobile was first brought to UK passengers by ITSO-member Transport for West Midlands, owners of the successful Swift ITSO smartcard.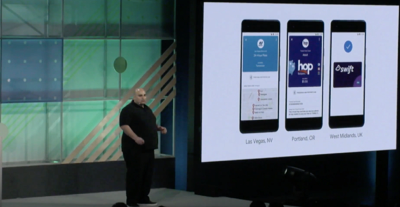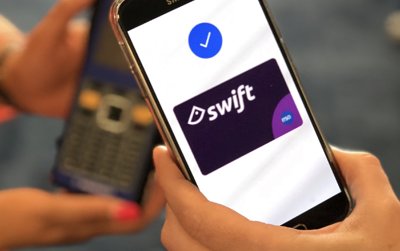 View the I/O'18 Announcement
Click here to view the announcement.
ITSO Transit Hub Ltd
ITSO began working with Google to evolve ITSO smart ticketing in early 2017 and has developed a new cloud-based ticketing fulfilment service that enables ITSO tickets to be saved into Google Pay on Android mobile devices.
This new cloud-based service is delivered by ITSO Transit Hub Services Ltd, a subsidiary company of ITSO Ltd. The ticketing fulfilment service integrates with retailers and Google Pay to deliver a complete end-to-end mobile ticketing solution that once held on the mobile device works in the same way as a physical ITSO smartcard, with the mobile device communicating via existing ITSO-certified readers and gates.
Like all existing ITSO smartcard solutions, the new mobile technology will provide a strong security management system, ensuring the safety of transaction data. Working with Google, ITSO has co-designed an effective security approach, that has been independently assessed and approved.
Combining Google Pay with the security, flexibility and scalability of ITSO products, ITSO on Mobile enables transport operators to deliver a mobile ticketing scheme that enhances the passenger experience as well as supporting smarter business operations.
Why Google Pay?
ITSO believe that passengers want to buy tickets in the same way as they do other goods and services. They want the confidence that their tickets are safe and secure.

Google Pay is fast and simple. And, when it comes to transport, it's more than just payment. Google Pay turns the phone into a one-stop ticket shop — for your regular commuters and one-off adventurers.
Fast and simple. No need to unlock device, just tap and go. Reduces the burden of commuting by saving time. No waiting in line to buy or collect tickets.
More than just payment. Travel, commute and more with just your phone. No need to remember and carry all your cards (credit cards or smartcards).
One-stop ticket shop. Instant ticket purchase. Mobile phone becomes the ticket vending machine. Easily view payments and card balances from anywhere, anytime.
Helpful and interactive. History, payment, balance at your fingertips, anytime, anywhere.
Contact us to find out more
Our promise is to keep costs to a minimum, protect investment in current ITSO infrastructure and explore opportunities for improving smart ticketing to better meet the expectations of the travelling public now and in the future.
If mobile ticketing is on your agenda contact nigel.cullum@itso.org.uk.